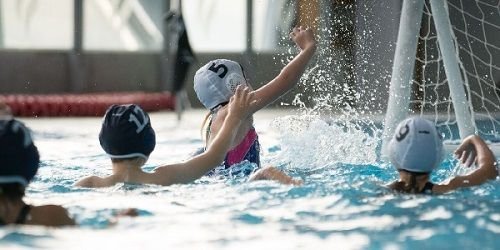 Flippa Ball Term 2018
Flippaball is a junior form of waterpolo and is available for Y2 - Y6 children. It is played at the Millennium Centre (deeper water) and the Owen Glenn Centre (feet can touch the bottom) off Apollo Drive. The games are on a Sunday afternoon. Teams also organise a practice time. At present it is on a Saturday afternoon.
Players only need their own togs and be confident in the water. The registration fees include the cost of pool time, and administration. The League is run by North Harbour Waterpolo. It is divided into 4 terms corresponding with school term times. Parents are needed as coaches and managers. Teams must have a coach and a manager to be able to register.
Children play in grades: Newbies, Y3 & 4, Y5 & 6
Our teams are selected on ability and experience at the start of each term. If required, we will hold a trial, at the pools, with an independent selector.
Term 2: Year 2 & 3 Information Term 2: Year 4-6 Information
Term 2: Year 2&3 Registration Form
Term 2: Year 4-6 Regsitration Form
Remember to always play fair ...... Click here to see the fair play code of conduct that we expect at BBS!