Using the Walking School Bus helps reduce the amount of traffic near Browns Bay School, both before and after school. Less cars means greater safety for all of our kids and walking is a great healthy option. We also encourage any families that can use the Walking School Bus to do so!
We have 2 Walking School Bus routes operating at the moment - Rothesay Bay and Bayside, with the Countdown one on hold at present.
We really appreciate the volunteers who co-ordinate or 'drive' on our Walking School Bus routes. The busses do rely on 'volunteer drivers' to 'drive' the children to and from school. We would love to be able to increase all our busses to full morning and afternoon services and will do so if we can build up our driver pool. Ideally the busses run best if we have enough children and drivers for the drivers only to have to walk once or twice in a week. For children to be part of our bus service an adult does have to volunteer as a driver.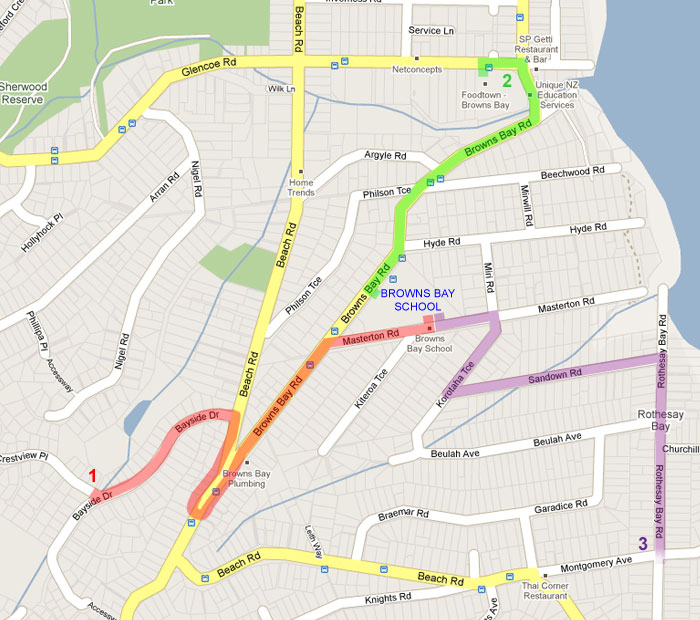 1. Bayside Route
The Bayside Walking School Bus route runs each morning. It leaves from the corner of Bayside and Crestview at 8.20am. It makes it's way up East Coast Road to the traffic lights and then along Browns Bay Road and Masterton Road, reaching school by 8.40am
2. Countdown Route ( not operating at present)
The Countdown Walking School Bus is on hold at present.It would normally leave the Countdown carpark on the corner of Anzac Ave and Browns Bay Rd at 8.30am. sharp. It makes its way up Browns Bay Rd reaching school by 8.40am. In the past is has run in the afternoon as well. We would like to be able to reopen this route if we have enough interest from parents and children. If you have an interest in being part of this bus contact Jacky Carr by email - jackyC@brownsbay.school.nz
3. Rothesay Bay Route
The Rothesay Bay Walking School Bus leaves at 8.20am from the corner of Beaulah Ave and Rothesay Bay Rd. Its route takes in Sandown Rd, Korotaha Terrace and Masterton Rd, arriving at school by 8.40am. In the afternoon the Rothesay Walking School Bus leaves from outside the school office at 3.10pm and returns along the same route in reverse order. At present this bus runs on a Tuesday, Wednesday, Thursday and Friday morning and a Monday, Tuesday, Wednesday and Friday afternoon.
Please give our Walking School Bus programme a try, and help us make our school a safer, healthier place to be!
WSB info brochure in Chinese WSB info brochure in Korean
---