Learning in the arts stimulates the creativity within us all, through which we appreciate who we are and how we interact with our fellow New Zealanders.
The Arts @ Browns Bay School
The Arts are a vital part of life here at Browns Bay School. Our Arts room 'The Studio', is where every class learns about music, dance and drama with regular timetabled Arts sessions as part of the CRT ( Classroom Release Timetable) organisation. This is definitely the noisy part of the school!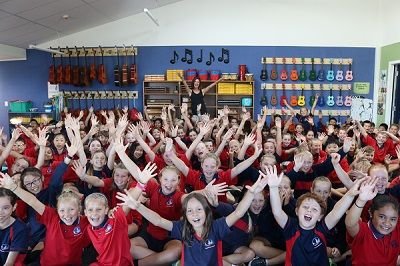 This classroom programme begins with beat and simple rhythmic work with dance and untuned percussion instruments in Year 1. Year 2 students are introduced to rhythmic symbols and have many opportunities to play tuned percussion instruments ranging from chime bars through to xylophones and marimba. Year 3 sees the beginning of recorder tuition and an introduction to simple rhythmic notation and in Year 4 students are extended in both these aspects of music to be playing in ensembles with a variety of instruments. Stringed instruments make an appearance in Year 5 with every student learning to play a selection of chords as they continue to progress in their other instrumental work and theory of music. By Year 6 students can also learn guitar and there is a focus on free choice of instrument to work on in Year 6 when all the basic skills are mastered. Singing underpins all these aspects of the Arts Programme and this occurs throughout the school both in this specialised programme and in classrooms, with regular performances at assemblies by soloists, groups and the whole school singing a wide repertoire of music.
Visual Art
Visual art is everywhere at Browns Bay School. Students explore the processes of drawing, painting, design and graphics, collage, construction, printmaking, sculpture and fabric and fibre within a detailed two year visual art plan. Students revisit each process several times, building on past learning experiences and contexts.
Art works make ever changing displays around individual classrooms and throughout the school with care taken to mount and frame students' work to maximum effect.
Our Arts teacher is Karen Warren karenw@brownsbay.school.nz,- enthusing children about the arts is her passion!